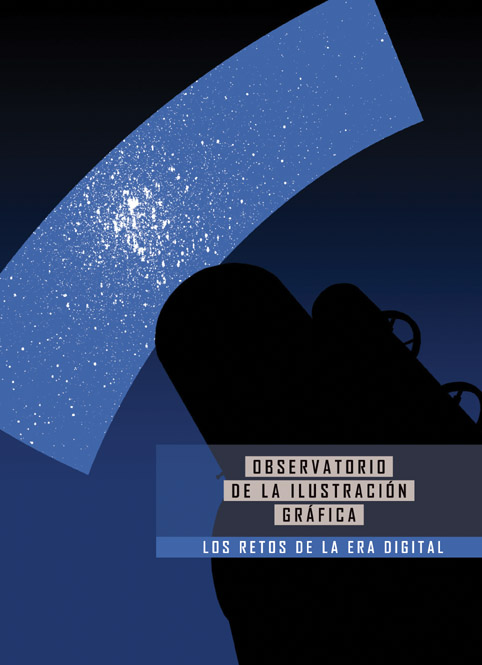 ← The Challenges of the Digital Era Spanish cover (click to enlarge)
As a logical continuation of the 2008 Report, the Observatory on Graphic Illustration has published a new document devoted to the problems — as well as to the advantages and new perspectives — brought up by the digital media.
This report is jointly signed by the members of the Observatory's Commission of Professionals. They are prominent professionals from different fields, such as illustration, art direction, publishing or legal advising: Horacio Altuna, Pablo Amargo, Elisa Arguilé, Arnal Ballester, Ulises Culebro, Ricardo Esteban, Manuel Estrada, Isidro Ferrer, Forges, Miguel Gallardo, Pablo Martínez, Max, Albert Monteys, Elena Odriozola, Javier Olivares, Carlos Ortín, Miguelanxo Prado, Mariona Sardà, Rosa Serrano and Javier Zabala.
The original book comprises a first part, the report itself, and a second part [in Spanish only] which includes several appendices. Here you can find an English translation of the first part.
The Challenges of the Digital Era
— Observatory on Graphic Illustration
Published by FADIP, December 2010
Contents:
The main sectors in this profession: an update (A current overview of the digital media — Internet business models — Digital distribution of books — Print on demand — The digital book and authorial rights)
Illustration in a global framework (The illustrator in the international market — The illustrator vis-à-vis other creators — Protection of authorial rights in the internet — Individual protection — The author's involvement in the protection of the industry)
The teaching of illustration
Conclusions. To institutions, customers, and illustration professionals
Download:
For the Spanish version please click here.

¿Comentarios?