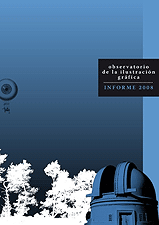 ← 2008 Report cover (clic to enlarge)
The Observatory on Graphic Illustration is a project promoted by the Federation of Associations of Professional Illustrators (FADIP) —an institution which brings together all the associations of professional illustrators in Spain: AGPI, APIC, APIE-EIEP, APIM and APIV. The Observatory is supported by Fundación Arte y Derecho ('Art and Law Foundation') and the Ministry of Culture, and was created with the objective of contributing with analysis and proposals to the progress of the conditions for professional illustrators.
The Observatory is understood as an organization that must evaluate the state of affairs with regard to copyright respect in our field, while promoting an objective study of the fundamental changes taking place in the world of communication which affect the relations between professional illustrators and the media.
A Commission of Professionals has been constituted as a fundamental part of the Observatory on Graphic Illustration. Its main objective is the development of an annual report which shall cover the irregularities and abuses as well as the good practice by companies and institutions. The Commission seeks to objectively present these various situations and to suggest solutions as far as possible. The Commission is composed of relevant professionals in different fields such as illustration, art direction, publishing and law, backed by their professional and personal careers: Horacio Altuna, Pablo Amargo, Elisa Arguilé, Arnal Ballester, Ulises Culebro, Ricardo Esteban, Manuel Estrada, Isidro Ferrer, Forges, Miguel Gallardo, Pablo Martínez, Max, Albert Monteys, Elena Odriozola, Javier Olivares, Carlos Ortín, Miguelanxo Prado, Mariona Sardà, Rosa Serrano and Javier Zabala.
This book comprises a first part, the 2008 Report, which briefly outlines the realities of most of the fields where illustration is involved, and a second part [in Spanish only] which includes several appendices that complement the aforementioned facts.
Download:

¿Comentarios?